So, you woke up in the morning today and checked your phone - and found 22 notifications in the 'Promotion' section of your Gmail, 13 SMS from some app/ website you had used a long time ago, and countless notifications from the apps that currently reside on your phone.
You switch on your TV - and then there is a show waiting for you, in the clutter of advertisements (and you miss the time when the situation used to be the other way round).
It is difficult for you to give enough attention span to any of those advertisements, even of the established brands - and then you wonder, how come these brands have become so popular anyway?
That's because, in their early days - they had (and still do) cracked the code of reaching your heart, and find a place on your phone! And the secret was - their innovative marketing strategies.
Uber - small budgets, big results
Uber Inc . is a phenomenon today, a brand so omnipresent that you can't just ignore it. Their marketing campaigns are surprisingly spectacular, with small budgets and big results.
The startup was born in 2009 and began offering free rides during the conference South by Southwest SXSW - a music, interactive media, and film festival that attracts thousands of millennials each year in Austin, Texas. They chose the exact spot of the planet and the specific time when their target focused. They revolutionized the event. All the attendees wanted the experience of trying the service free of charge. Social networks, particularly Twitter, was collapsed with information about Uber.
Another campaign of Uber was to join the National Cat Day in the United States. The startup offered users the delivery of a kitten and his company for fifteen minutes. If the customer wanted, after the meeting he could adopt the pet. And as they say - you can never say no to a cute cat 😋

Spotify - Subtle co-marketing
Spotify began as a startup based in the UK and with little presence in the USA. They used Facebook to achieve the momentum in the US, thanks to a subtle campaign of co-marketing. Spotify personal lists were published in the profiles of Facebook users and tracks were displayed with playback buttons, so users from Facebook could hear the same music with a single click.

Twitter - big and bold
The SXSW conference was also the birthplace of an innovative campaign for Twitter, about a decade back. Instead of renting a traditional booth at the festival, Twitter negotiated with the organization and placed huge screens on which appeared messages in real-time. Attendees who used Twitter participated in the campaign and promoted the brand encouraging new customers to use the social network for the first time.
Zomato - cheeky as a cheese
Effective communication is at the core of Zomato's excellent marketing strategy. Their tone of voice has always been engaging but rather unconventional and this is what makes them stand out. Their focus is on interaction with their audience.
A recent example of this is a marketing campaign they launched on Twitter in December where they asked people the most creative restaurant name they've ever come across. Naturally, this garnered a deluge of responses with 567 comments, 72 retweets, and 692 likes at the time of publishing this post.
Here's an example of the kind of response this garnered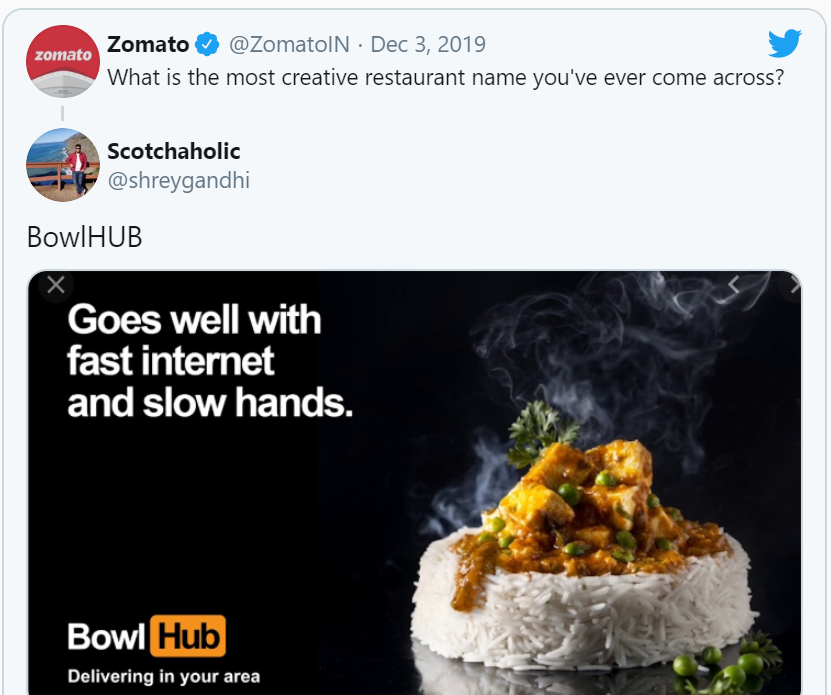 Their Twitter account adopts a tone that is frivolous, witty, and sometimes even counter-intuitive. In July 2019, in a viral tweet, they asked their user base to order less and eat more home-cooked meals. is the exact opposite of what one would expect their communication to be centered around. But upon closer inspection, it made sense:
Reverse psychology

is an incredibly powerful tool and customers were probably even more tempted to order food.

The timing was right - it was bang in the middle of a cricket World Cup where, as per the norm, people were ordering food even more frequently than usual.
Other brands were quick to jump onto this bandwagon.

The biggest takeaway from this campaign is that Zomato knows how to work for its community and knows how to stand out amidst your Twitter feed where almost all influencers and service providers are bent on promoting their products. That's one of the pillars of Zomato's marketing strategy.
These are just a few examples that reflect the importance of a good idea in a marketing campaign. Online marketing offers endless possibilities.

Low budget is not an issue - if you know, how to get the cat named 'Curiosity' out of the box!
Marketing strategyStartupmarketinginnovative marketingUberspotifyzomatoswiggy